The Sprint Airave arrived the next morning in a neat little box from FedEx. I opened it up and was greeted with the cheery yellow Sprint Airave box, packaged nicely by Sprint.
Inside the box was the Airave device, styled in black and white with the Sprint logo printed on it as well as a power adapter, user manual, a short length of network cable, and a GPS antennal. What? GPS you ask? Well here's how the Airave works.
You plug the Airave into your network, and using the wonderful Internets the Airave connects to Sprint. Once it is connected, it checks where itself is placed – the idea is that the Airave is only allowed to work in the US, preventing you from traveling overseas, plugging the box in, and getting free internationl calling. I'm pretty sure there are other reasons why it requires a GPS lock. In case you can't set the Airave near a window to get a strong GPS signal, they include a GPS antenna so you can cram the Airave in a bookshelf or whatever, and run the antenna near a window.
Four red\blue LED's are behind the white faceplate of the Airave, with lights for Power, System, GPS, and WAN. Well, instructions say to plug in and wait up to 50 minutes, so plugged in it goes. Also noted is how Sprint included a corded transformer, not a wall wart so the power pack does not take up space on your power strip. Good touch!
Once plugged in, you flip the little switch on the back to the on position, and off it goes. First the power light comes on in a soft blue. Then the WAN light comes up in blue,  but whats, this, why is the GPS light blinking red? Eventually it took about 20 minutes before the GPS light went to solid blue, then the System light started to blink red. About another 10 minutes later, the System light went solid blue, and then I was set. Total time, it took about half and hour from plugged in to fully active. It was probably doing a lot of authentication and verification before all the systems went online and OK. I attempted to sniff traffic between the Airave and the internet, and all I could make out was that it started an encrypted tunnel, and that was that.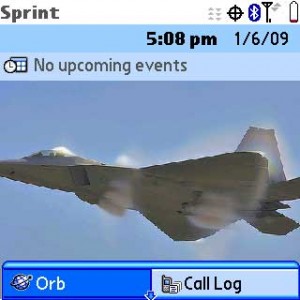 The phone suddendly went to full signal. Well, I was sitting about 6 feet away, it had better be at full signal. I quickly do a signal test. I run to the garage, about 4 walls and 50 feet away – 3 bars. I run upstairs and as far awaty from the Airave as I could, probably a good 70 feet away with lots of walls in the way. Still 3 bars. I run up to my room, about 30 feet away, lots of walls. 4 bars. Excellent. So I set it down and assume all is well.