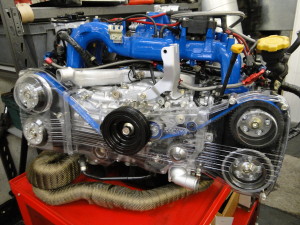 This is a group buy for CDF Racing's 3-piece clear timing covers. This is the full description from CDF Racing's website:
Our new EJ20/EJ257 clear cam covers are now complete. After two years of R&D we can now offer the 3 piece kit in clear polycarbonate. Our covers are tested for perfect fitment and heat resistant to 145C / 293F. These clear timing covers are a great mod to your Impreza! Not only do they look super cool, these clear covers could potentially save your cars engine by allowing you to spot trouble with your timing belt prior to a catastrophic failure. These will fit all Impreza engines 99-07 WRX/ STi.
http://www.cdfracing.co.uk/product_info.php?products_id=746
These only fit single AVCS engines, and will not fit dual-AVCS engines such as the 2008+ STi. These should fit 2008 – 2014 WRX, since those engines are single-AVCS but you will need to check with CDF Racing to confirm
Since this a group buy and not a direct sale, please be aware of the following caveats:
Local pickup is possible in Houston, Texas, USA
Shipping to your doorstep is additional and is calculated when I receive the bulk order from CDF Racing

This is an additional shipping payment that will be required if you need your timing cover shipped to you.
You will get an email with an invoice + shipping quote when this is calculated.

Lead time is ~2 months from payment to package delivered to your doorstep – this is being imported from the UK
Full payment up-front is required. 10% of your payment is NOT REFUNDABLE if you back out of the group buy. This is because of the nature of importing goods from overseas. I need to pay import duties and taxes when this package is imported, whether I have a buyer for the product or not. Also, this is to discourage people from being a dick and and saying they want something, then backing out.
| | | |
| --- | --- | --- |
| Payment Method | Payment Timeframe | Payment Fee |
| PayPal | Usually instant | 3.5% |
| Square Cash | 2-5 days | None |
| Bitcoin | Instant | None |
| Credit Card | Instant | 3.5% |
| Check | 3-5 days | None |
| | | | | | |
| --- | --- | --- | --- | --- | --- |
| | PayPal | Square Cash | Bitcoin | Credit Card | Check |
| Base cost | $320 | $320 | $320 | $320 | $320 |
| Import duties and taxes | $19 | $19 | $19 | $19 | $19 |
| Payment transaction fees | $12 | $0 | $0 | $12 | $0 |
| Total payment pre-shipping | $351 | $339 | $339 | $351 | $339 |
The group buy ends June 31st, and the order will be sent to CDF Racing then. To register for the group buy, please click here: https://goo.gl/JYUDNV