Well shortly after I purchased my 2010 Volvo XC60, I noticed something amiss while poking around in the engine bay. The upper engine mount, commonly called the torque rod, had a torn bushing! It has a curiously complex structure that looks like it was designed to reduce the transmission of vibrations into the cabin. Unfortunately while it looks like it does a wonderful job of insulating and isolating engine noise from the body, it also looks remarkably weak and would corroborate with reports of this mount frequently being broken and requiring replacement on P3 platformed cars.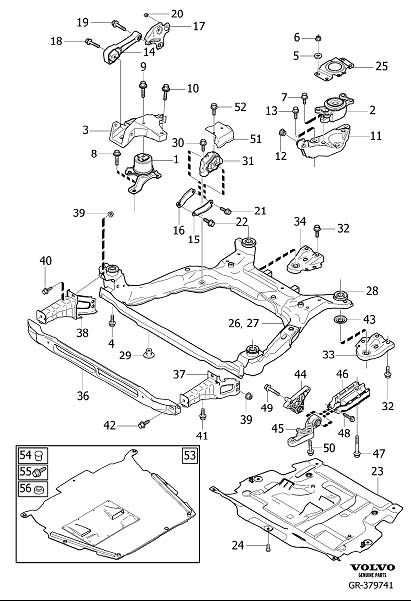 We're interested in part #14 above – luckily, this is an extremely simple part to replace requiring only two tools and about 30 minutes of time! The replacement part number is 31430441 from Volvo and costs about $62 from Tasca.
Parts:
Tools:
15mm ratcheting box wrench
8mm ratcheting box wrench
Lets get to work!
Pop the hood and remove the engine cover. It's not bolted in, just yank it off.
Remove the 8mm bolt holding the coolant tank in.
Remove the tank and swing it out of the way.
Remove the two 15mm bolts holding in the torque rod.
Remove the torque rod. Mine was torn quite badly.
Replace with new one and put it back together!
---
Did you find any of the information useful? Have I helped you save a bit of money / time / frustration? I've spent a lot of time taking pictures and meticulously documenting everything to post it here. I'd really appreciate it if you could
send me some money via Paypal
! This helps defray the cost of running this website and also provides me with beer to continue writing these articles. Thanks!