Update 5/1/2017:
The yellow, softer version of this product that I have doesn't stay very well inside the stock bushing and keeps popping out. For now I'll just remember to check and put it back in every once in a while, but people have reported that the black "race" version doesn't pop out.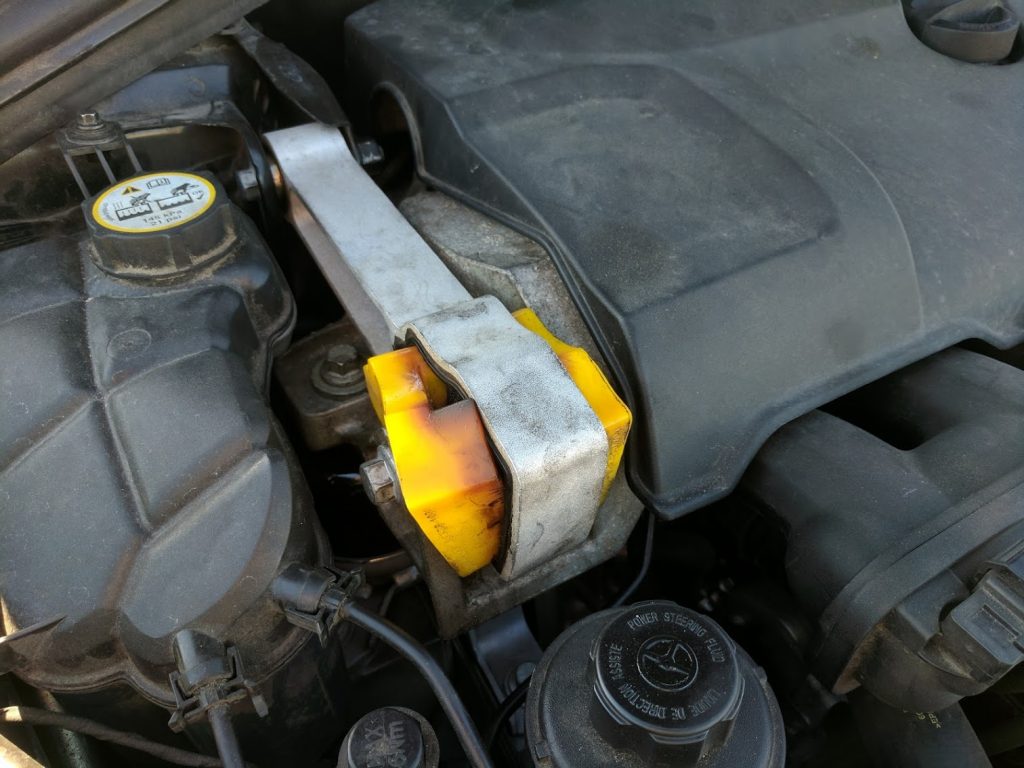 ---
The passenger side upper engine mount on the Volvo XC60 T6 is shared among the Volvo p3 platform and for both the 3.2L naturally aspirated and 3.0L turbo engine. It seems Volvo has always had some sort of torque arm on their engine since switching over to the transverse engine layout, and the trend continues well into the P3 platform that my 2010 XC60 is based on.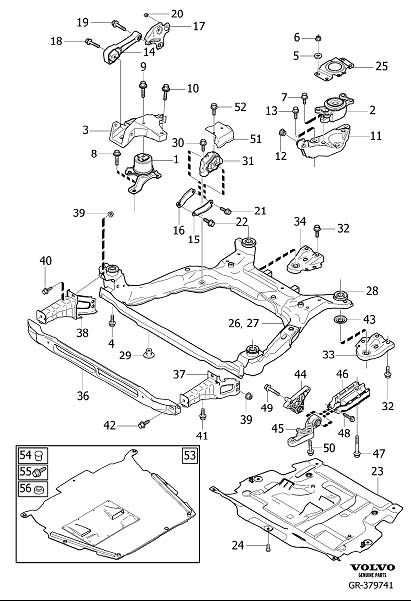 We're going to be focusing on part #14 above. When I purchased the car, it had 65k miles on it and this mount was already visibly torn and needed to be replaced. It was quickly replaced with another Volvo factory part, but I always wondered if there was an improvement that could be made to firm up the engine mount and help prevent this common failure.
Powerflex has a bushing that will work great for this called the Torque Rod Insert. At $34 it's a great price for a bushing insert that is installed into an existing good-condition mount to stiffen it up and extend it's service life.
Installation is very easy and only takes 30 minutes.
Tools required:
15mm ratcheting box wrench
8mm ratcheting box wrench
Lets get crackin'
Start by popping the hood and removing the engine cover. It's not bolted down, just pull it off.
Remove the bolt holding the coolant reservoir in. It's an 8mm bolt.
Pull the coolant reservoir out of it's mount and flip it over on it's side.
Remove the 15mm bolt holding the big end of the upper engine mount in.
Swing the mount up and clear of the bracket.
Lubricate the bushing insert with the supplied grease.
Insert the bushing insert into the bushing on the mount.
Put it all back together!
Initial thoughts: Very little extra NVH is transmitted into the car. An inline 6 engine is naturally balanced, so I didn't expect anything more, but I did remember when I installed one in a 5-cylinder Volvo and it was significantly louder inside the cabin. On my XC60, it could be the fact that the inline 6 is more balanced, or because it has improved noise insulation – however, the additional noise was very minimal and only noticeable under hard acceleration and very slightly noticeable when idling in and in gear while stopped. Time will tell if this helps the upper torque arm last longer!
---
Did you find any of the information useful? Have I helped you save a bit of money / time / frustration? I've spent a lot of time taking pictures and meticulously documenting everything to post it here. I'd really appreciate it if you could
send me some money via Paypal
! This helps defray the cost of running this website and also provides me with beer to continue writing these articles. Thanks!