---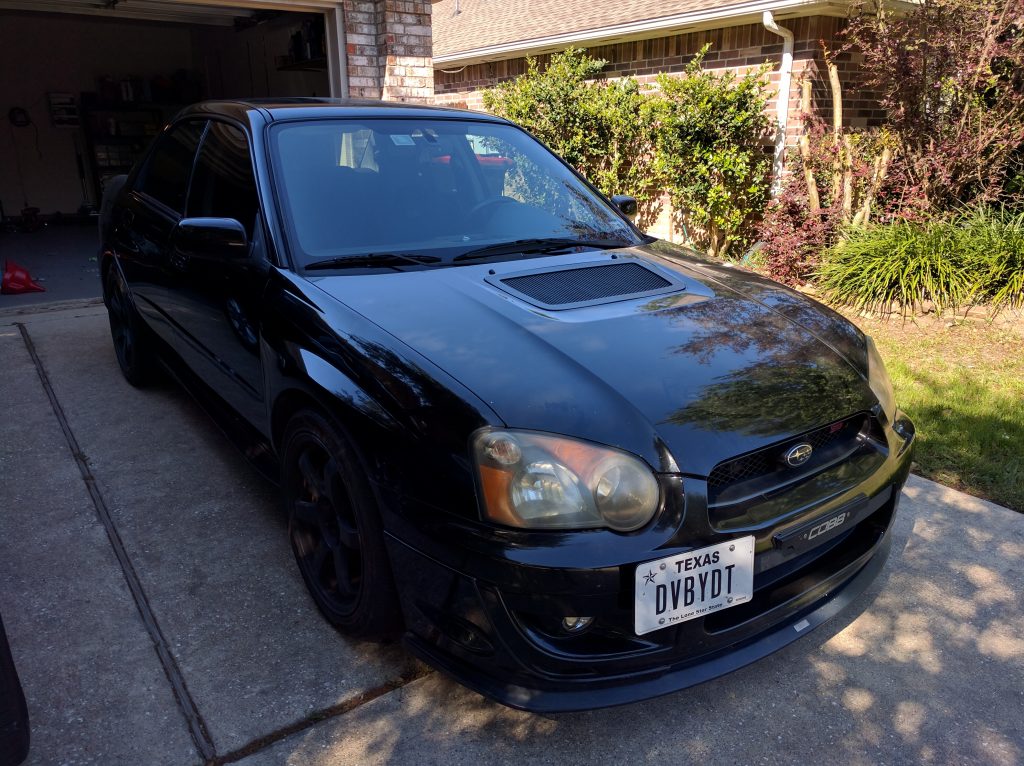 Sponsors:
Awards and Accolades:
20130505 – Gillman Big Event 5 – Best 04-05 Impreza
Engine Modifications:
ETS V-Band Rotated Turbo Kit

Garrett GT3076 with TiAL 1.06 A/R exhaust housing
Full speed-density setup with 4″ intake
A/N coolant and oil line conversion

IAG Competition Air/Oil Seperator

Exhaust draft system with PCV

Crawford Performance FMIC
SR*S catback exhaust
Walbro 255lph in-tank pump
Perrin Performance lightweight crank pulley
Suspension and Chassis Modifications:
Brake Modifications:
DBA Street Series slotted front and rear rotors
EBC Red

brake pads

Temporary Centric C-Tek Ceramic front pads
EBD Red rear pads

Techna-Fit stainless-steel brake lines
Dust shield removed
Harmonic dampener removed
Appearance Modifications:
Debadged and de-stickered
15% Llumar tint on side windows, 5% Llumar tint on rear windshield
White LED dome/map/trunk lights
JDM genuine Spec-C front lip
Smoked vinyl rear taillight by Underground Graphics
Smoked vinyl third brake light by Underground Graphics
License plate relocation kit by Grimmspeed
Replica Mines carbon-fiber spoiler, paint matched to OBP by Imperial Collision
Shaved and wingless trunk painted by Imperial Collision
OEM 06-07 rear diffuser
Functional Modifications:
JDM evap and purge valve setup
Hella Supertons – powder coated black

Custom Plug+Play Wiring Harness

OEM foglamps
OEM Homelink mirror
OEM under-seat subwoofer
OEM alarm system/keyless entry
Hardwired Valentine 1 radar detector

Previous V1 stolen 11/07/2011 – serial #2790420920
STILL UNRECOVERED – REWARD FOR RETURN

CountryJoyCrafts V1 rear view mirror mount
Fumoto oil drain valve
JDM intercooler sprayer button
Denso Iridium IKH22 one step colder spark plugs
PIAA Ion Crystal yellow H3 fog light bulbs
Muteki "Deep Black" 41885B M12x1.25 closed-end forged steel lug nuts
Kumho Ecsta 4X tires in 245/40/18
Waiting to be installed:
Whiteline Com-C front top hats
Ohlins fixed-perch inverted monotube struts
Subaru parts vendors I like:
Subaru forums and websites:
Service and Maintenance:
99,000 miles – 20180824 – Replaced all four wheel bearings, replaced rear hubs, and installed ARP standard length studs
98,430 miles – 20180615 – Mobil 1 0w-40 Euro + Wix XP filter change
94,843 miles – 20180415 – Installed Cusco engine and transmission mounts
94,004 miles – 20180219 – Finished installing ETS rotated turbo kit…lots and lots of changes
83,190 miles – 20131109 – State inspection, noticed erratic speedometer behavior when wet
82,202 miles – 20130831 – German Castrol 0w/30 + Purolator PureONE oil change, changed cabin air filter, replaced A/C idler pulley with Gates pulley, installed Centric C-Tek Ceramic front pads (temporary)
80,999 miles – 20130626 – Installed Grimmspeed TMIC, splitter, and y-pipe.
80,606 miles – 20130503 – Installed GrimmSpeed EBCS in bleed mode, minor WGDC tuning
79,646 miles – 20130322 – Transmission oil changed with Subaru Extra-S 75w-90
79,032 miles – 20130317 – Changed reverse lockout cable, adjusted Cobb short shifter, and adjusted parking brake
76,337 miles – 20121125 – German Castrol 0w/30 + Purolator PureONE oil change
75,757 miles – 20121103 – Cleaned and re-oiled K&N Typhoon intake filter
74,407 miles – 20120911 – Replaced upper coolant tank, wiper fluid tank, forward O2 sensor, and passenger side intercooler bracket
74,362 miles – 20120901 – ACT clutch/pressure plate/flywheel installed, coolant flushed
74,265 miles – 20120818 – Cobb short throw shifter and knob installed
74,233 miles – 20120817 – Rota Grid wheels, Kumho Ecsta 4x tires installed
74,200 miles – 20120806 – TurnInConcepts trailing arm bushings and lateral link bushings installed, realigned car to zero toe, maximum negative camber
74,200 miles – 20120726 – Autozone Duralast Group 35 battery installed
74,100 miles – 20120427 – Both accessory belts changed
69,700 miles – German Castrol 0w/30 + Purolator PureONE oil change
69,296 miles – Denso Iridium IKH22 one step colder spark plugs
64,750 miles – 60k Maintenance / Rear diff and transmission fluid change, changed cabin air filter, alignment (zero toe / max negative camber)
---
Did you find any of the information useful? Have I helped you save a bit of money / time / frustration? I've spent a lot of time taking pictures and meticulously documenting everything to post it here. I'd really appreciate it if you could
send me some money via Paypal
! This helps defray the cost of running this website and also provides me with beer to continue writing these articles. Thanks!
---
1Provided by Turn In Concepts