---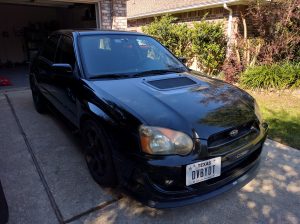 Sponsors:
Awards and Accolades:
20130505 – Gillman Big Event 5 – Best 04-05 Impreza
Power Modifications:
Suspension and Chassis Modifications
Brake Modifications
DBA Street Series slotted front and rear rotors
EBC Red

brake pads

Temporary Centric C-Tek Ceramic front pads
EBD Red rear pads

Techna-Fit stainless-steel brake lines
Dust shield removed
Harmonic dampener removed
Appearance Modifications:
Debadged and de-stickered
15% Llumar tint on side windows, 5% Llumar tint on rear windshield
White LED dome/map/trunk lights
JDM genuine Spec-C front lip
Smoked vinyl rear taillight by Underground Graphics
Smoked vinyl third brake light by Underground Graphics
License plate relocation kit by Grimmspeed
Replica Mines carbon-fiber spoiler, paint matched to OBP by Imperial Collision
Shaved and wingless trunk painted by Imperial Collision
OEM 06-07 rear diffuser
Functional Modifications:
Waiting to be installed!
JDM Top-Feed TGV deletes 

Injector Dynamics ID1300 injectors
Grimmspeed ported and coated intake manifold
Whiteline Com-C front top hats
Ohlins fixed-perch inverted monotube struts
Innovate Motorsport gauge set
ATi triple gauge pod (wrapped by JPM Coachworks)
T1 Race Development IAT sensor
Subaru parts vendors I like:
Subaru forums and websites
Service and Maintenance
83190 miles – 20131109 – State inspection, noticed erratic speedometer behavior when wet
82202 miles – 20130831 – German Castrol 0w/30 + Purolator PureONE oil change, changed cabin air filter, replaced A/C idler pulley with Gates pulley, installed Centric C-Tek Ceramic front pads (temporary)
80999 miles – 20130626 – Installed Grimmspeed TMIC, splitter, and y-pipe.
80606 miles – 20130503 – Installed GrimmSpeed EBCS in bleed mode, minor WGDC tuning
79646 miles – 20130322 – Transmission oil changed with Subaru Extra-S 75w-90
79032 miles – 20130317 – Changed reverse lockout cable, adjusted Cobb short shifter, and adjusted parking brake
76337 miles – 20121125 – German Castrol 0w/30 + Purolator PureONE oil change
75757 miles – 20121103 – Cleaned and re-oiled K&N Typhoon intake filter
74407 miles – 20120911 – Replaced upper coolant tank, wiper fluid tank, forward O2 sensor, and passenger side intercooler bracket
74362 miles – 20120901 – ACT clutch/pressure plate/flywheel installed, coolant flushed
74265 miles – 20120818 – Cobb short throw shifter and knob installed
74233 miles – 20120817 – Rota Grid wheels, Kumho Ecsta 4x tires installed
74200 miles – 20120806 – TurnInConcepts trailing arm bushings and lateral link bushings installed, realigned car to zero toe, maximum negative camber
74200 miles – 20120726 – Autozone Duralast Group 35 battery installed
74100 miles – 20120427 – Both accessory belts changed
69700 miles – German Castrol 0w/30 + Purolator PureONE oil change
69296 miles – Denso Iridium IKH22 one step colder spark plugs
64750 miles – 60k Maintenance / Rear diff and transmission fluid change, changed cabin air filter, alignment (zero toe / max negative camber)
---
Did you find any of the information useful? Have I helped you save a bit of money / time / frustration? I've spent a lot of time taking pictures and meticulously documenting everything to post it here. I'd really appreciate it if you could
send me some money via Paypal
! This helps defray the cost of running this website and also provides me with beer to continue writing these articles. Thanks!
---
1Provided by Turn In Concepts