---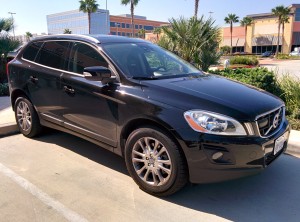 I purchased this Volvo XC60 T6 AWD in August of 2015 to replace my XC90 V8. It is loaded with Technology Package, which includes adaptive cruise control and keyless entry and ignition. The T6 motor provides ample torque and power at low RPM (peak torque starts at 1500RPM) and sips fuel compared to it's larger V8 brother in the XC90.
Volvo parts vendors I like:
Volvo forums and websites:
Service and Maintenance
20161030 – 90634 miles – Drain / refill of transmission fluid with Redline D4, debadged rear of car
20161026 – 90363 miles – Oil changed with Mobil 1 0w-40 and Wix oil filter, installed K&N panel filter
20161012 – 89649 miles – Changed passenger-side lower engine mount
20161001 – 88,900 miles – Installed Powerflex torque arm bushing insert, David's Volvo Labels black Volvo sticker in grille
20160917 – 88,269 miles – Replaced battery with Advance Auto AGM battery
20160910 – 87,905 miles – Baseline dyno run at DD Performance Research, installed Jetex resontator-back exhaust system
20160810 – 86,093 miles – Inspection performed, registration renewed
20160617 – 83,034 miles – Oil changed with Mobil 1 0w-40 and Wix oil filter
20160421 – 79,640 miles – Check-engine light illuminated – P0193 Fuel Rail Pressure Sensor Circuit High Input. Sensor replaced.
20160228 – 76,300 miles – Oil changed with Mobil 1 0w-40 and Wix oil filter. Flushed transmission fluid with Redline D4. Reset fluid service counter and transmission adaptives. Replaced cabin air filter. Switched to Atlantis wheels and Continental tires from XC90.
20151106 – 68,680 miles – Oil changed with Mobil 1 0w-40 and Wix oil filter
20151102 – 68,503 miles – Performed chip repair on windshield at Car Spa of Clear Lake.
20151003 – 66,150 miles – Replaced spark plugs with NGK ILFR6B, cleaned valvecover, lubricated coil pack o-rings, anti-seized spark plugs and all fasteners. Performed total CAN and total IAM upgrade at Momemtum Volvo of Houston, and programmed spare key.
20150928 – 65,480 miles – Replaced upper engine mount with genuine Volvo replacement.
20150801 – 65,250 miles – Purchased from Gillman Subaru Southwest.
---
Did you find any of the information useful? Have I helped you save a bit of money / time / frustration? I've spent a lot of time taking pictures and meticulously documenting everything to post it here. I'd really appreciate it if you could
send me some money via Paypal
! This helps defray the cost of running this website and also provides me with beer to continue writing these articles. Thanks!