Houston gets an onset of cold weather (mid – high 20's) and a little bit of freezing rain / sleet while I'm at work. While on break I walk around to check out the condition of roads…while most of the surface streets seem fine, our sidewalk at work is coated in a sheet of slick ice, and our Employee of the Month sign is very frosty looking:
Back in the toasty confines of my swampy gator-cubicle, I check the traffic conditions for Houston and this is what I get: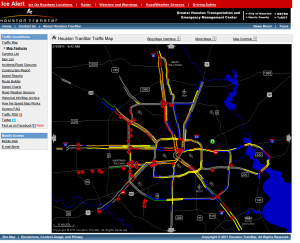 Awesome, just awesome. Thanks to @Snipa_ABlair for the photo.