Honestly when i bought them I didn't know they were shipping from an hour where I lived. I wound up buying it at Amazon here.
Its nice, came in a smallish box that wasn't packed too well by Amazon. The Bodum box was squished to one side of the box with no packaging around it.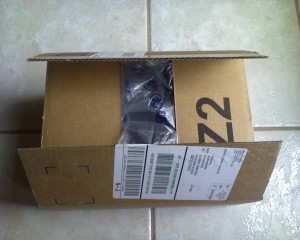 Bodum themselves only packed the cups in bubble wrap. It did the job; everything arrived in once piece amidst the horror stories of people recieving broken cups. 2 cups per box.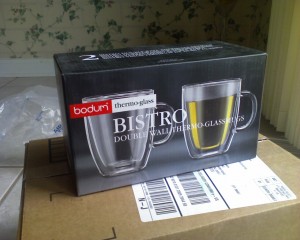 One thing I noticed was how they proudly proclaim that they are "handmade by expert artisans" but there's a sticker on the bottom of the box that says "Made in China". I find that hard to believe that they're handmade; their disclaimer that claims slight irregularities from being handmade might be a ploy to disguise that they were mass produced in a cheap factory with bad quality control. Due to their slightly expensive price (~$30) they had better hold up.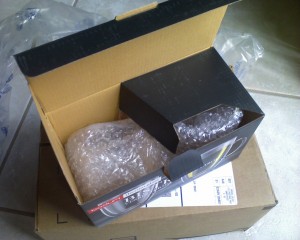 They feel amazingly light when you pick them up; they give the impression that it is made of plexi-glass until you give it a slight flick, at which point it sounds nicely to remind you that it is, indeed, glass. They also feel amazing delicate; I doubt their claims that you can stick it in the dishwasher, which was how my other mug met its untimely death.